What's Singaporean food like, you ask? Singaporean food is like a bowl of laksa.
Let us explain: Singapore's homegrown Katong laksa is Singaporean cuisine in a bowl. Study its ingredients and you'll see what makes this dish uniquely Singaporean: its ingredients include turmeric from Indian cuisine, bean sprouts and fish cakes from China and the remaining ingredients (coconut milk, seafood, shrimp-chilli paste and laksa leaves) are drawn from a fusion of Eurasian, Malay and South Indian cuisines. Singaporean food is truly multicultural, just like the country!
Origins
As a bustling seaport right from the 1800s, Singapore attracted immigrants from different lands, from the Chinese to the Indians and even some Arabs and Europeans. Each community brought with it its own traditional cooking methods. When these communities began to live together, Singapore became a melting pot of ethnicities, cultures, religions and of course, food.
Take Singapore's Peranakan food, these dishes are unique creations concocted in the kitchens of Chinese immigrants who married into the local Malay community. If you look at the names of some popular Singaporean dishes such as Hainanese chicken rice and Hokkien char mee, you can even spot the Chinese provinces that these dishes originated from.
Another popular dish is rojak (meaning mixture), a salad drizzled with sweet and sour sauce which has different names and ingredients depending on whether it's made by Indian Muslims, the Chinese or by Malays. With every dish having such a rich heritage, no wonder Singaporeans are proud of their rojak cuisine!
Singaporean Cuisine 101
Noodles, rice and seafood are the staples of Singaporean cuisine. Most Asian dishes are either rice-based or noodle-based but Singaporean dishes often include both.
Noodles are served either stir-fried or in a soup. While Chinese noodle broths have a base of chicken, pork or shrimp and are simply flavoured, Malay noodle soups have a distinct flavor thanks to a mix of fishy sambal, sour herbs and limes.
Rice dishes are often topped with gravy or meat. The local version of biryani features a rich chicken curry spread over gently spiced biryani rice while the rice in the popular Hainanese chicken rice is cooked in chicken broth.
What to Eat
Here's the lowdown on Singapore's best dishes:
First up is the star of Singapore's hawker food, the humble Hainanese Chicken Rice. Steaming hot rice and poached chicken are served with spicy chilli sauce, dark soy and minced ginger, garnished with slices of fresh cucumber.
Meat lovers must try the delectable spicy rendang originating from Western Sumatra's Minang cuisine. Rendang is made from meat — beef, lamb or mutton – braised in coconut milk and flavoured with sautéed pureed onions, chillies, garlic and spices. Yum!
If you're in Little India, you can't miss the signboards inviting you to have some of their famous fish head curry. The story goes that in the 1940s, the owner of a small Indian restaurant combined Indian curry with fish head, a Chinese favourite, to win over his Chinese customers. This comfort food is a spicy curry cooked with vegetables and of course, the whole head of a fish. If you're feeling adventurous, sample this dish the Singaporean way — begin with the eyes!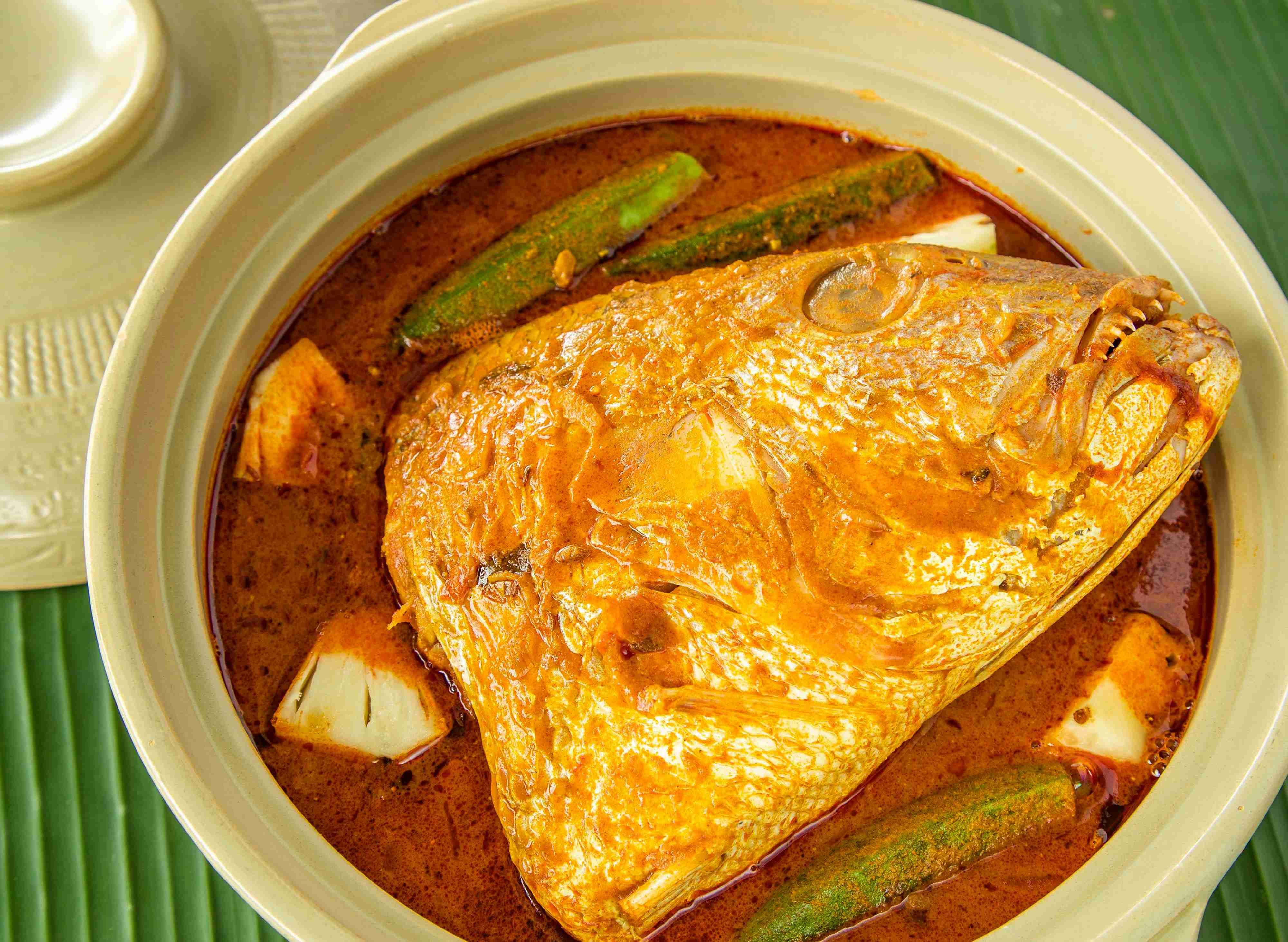 How can we forget the famous Singapore chilli crab? After all in 2011, chilli crab made it to number 35 on CNN Go's World's 50 Most Delicious Foods. To make chilli crab, crabs are stir-fried and coated with a spicy tomato sauce that's deliciously both sweet and savoury!
Finally, how about some Singaporean desserts for that sweet ending?
Ice kacang, made from shaved ice, red beans, jelly and sweet syrup, is a delightful, thirst-extinguishing dessert. Popular toppings include sweet corn, peanuts, evaporated or condensed milk, mango, durian, ice cream and gula melaka syrup.
Chendol is another iced dessert made from its signature green rice flour jelly, coconut milk and palm sugar (gula Melaka). Sometimes red bean, sweet corn and attap chee are added too.
The Best Restaurants for Singaporean Food
Hawker centres are the best way to appreciate Singaporean food, Singapore-style. But if you'd rather stay at home and skip the queues, here's how to get the best of Singaporean cuisine delivered right to your doorstep:
Check out Janngut Laksa or Hong Heng Beef Noodle Soup if you're craving some laksa or noodle soup. For seafood, Home of Seafood and Jumbo Seafood offer a variety of delightful seafood dishes. Muthu's Curry and Pondok Jawa Timur are your go-tos if you're looking for some spicy food to turn up the heat. And finally, get your dessert fix from Penang Culture or Mei Wei Dessert.
What are your favourite Singaporean dishes? Share with us in comments!