If there is one food that had an interesting start it is sushi. Until 1923, sushi was exclusively a street food. Then, the city of Tokyo was shaken up by an earthquake that destroyed a big of it. The value of property nosedived and sushi chefs who used to sell from the streets were able to afford brick and mortar restaurants. They continued to perfect their art and sushi became exquisite cuisine enjoy in upmarket restaurants.
Its popularity grew, and it was adopted by other countries around the world including Singapore. There are a number of restaurants in Singapore where you can enjoy sumptuous sushi.
Makisan is one such restaurant. Here, you can dig into a number of sushi dishes. One of the most popular is Mega San Shushi from the D.I.Y Sushi selection. This dish has one wrap, one rice serving, five essentials, one sprinkle, one sauce and one house sauce. Another popular dish from the House Sushi selection is Child's Play. It comes with a nori (seaweed) wrap, a portion of white rice, shreds of cucumber, kani stick which is a crab stick, slices of cheddar cheese, tamagoyaki which is a Japanese-style omelette, a dollop of Japanese mayo sauce and one of tuna mayo. If you want a snack rather than a full meal, go for the Tempura soft-shell crab. Apart from the delectable taste, you will also love the fact that you can enjoy these delicacies for less than S$10.
https://www.instagram.com/p/BRkBAiYBRnf/
Searching food for office or home party? Oder DIY-Sushi from Makisan now!
Seoulroll is another restaurant in Singapore that really know how to roll up the sushi. Here, one firm favorite is Bulgogi Roll. It is made with the bulgogi that gives it its name, rice, budok root, carrot, eggs, cucumber, radish pickle, and lettuce. The crispy shrimp roll also has high demand. It also has rice, carrot, lettuce, cucumber, eggs and budok root to which fried shrimp kochujang aioli are added to give it its unique taste. The restaurant's signature roll, the Seoulroll is also a hit. It has the same base of vegetables as well as radish pickle, luncheon meat, and kimchee. You can enjoy all this for under S$6.
https://www.instagram.com/p/BTMF080DyoD/
Order your Korean-style sushi online!
Sushi lovers also heap praise on Standing Sushi Bar (Queen Street). Particularly beloved is the Rockstar Roll made with seared salmon over Cheddar and smothered in torched mentaiko sauce. Salmon lovers will also enjoy Beyond Philly made with salmon sashimi and avocado wrapped with torched cheese and salmon roe. Another sushi dish you will want to enjoy from this restaurant all the time is All Salmon, All the Time. You will love every bite of this dish made with salmon sashimi, cucumber, and sweet avocado which are covered with salmon that has been seared and tobiko with a bit of Yuzu Mayo. These and most other dishes will cost you less than S$20.
https://www.instagram.com/p/BOin02NDhNC/
Check Standing Sushi Bar's menu here.
Itacho Sushi is also a favorite stop for sushi. One of their crowd-pleasers is their sushi and donmo offers, a platter of different dishes including raw salmon rolls, rice, vegetables and a sauce. The salmon don is also popular. This one has rolls made with fresh salmon and the same accompaniments. California Maki is also very popular. It comes with a roll that has cucumber, crab meat, and avocado.
https://www.instagram.com/p/BywaaAFA_nk/
Find your favorite flavor here.
When you ask for a good place to have sushi in Singapore, another place you will hear about is Manpei. This izakaya will give you enough choice between the tuna sushi, the salmon roe, the cuttlefish or more. Seafood lovers never get tired of Chirashi Rice Bowl, a roll of raw seafood on a layer of rice that is served with a bowl of Miso soup. For fish lovers, a top choice is the Saba Mackerel which is a roll made with grilled mackerel with salt, served with and other accompaniments. Expect to part with between S$7 to S$21 for a delectable roll.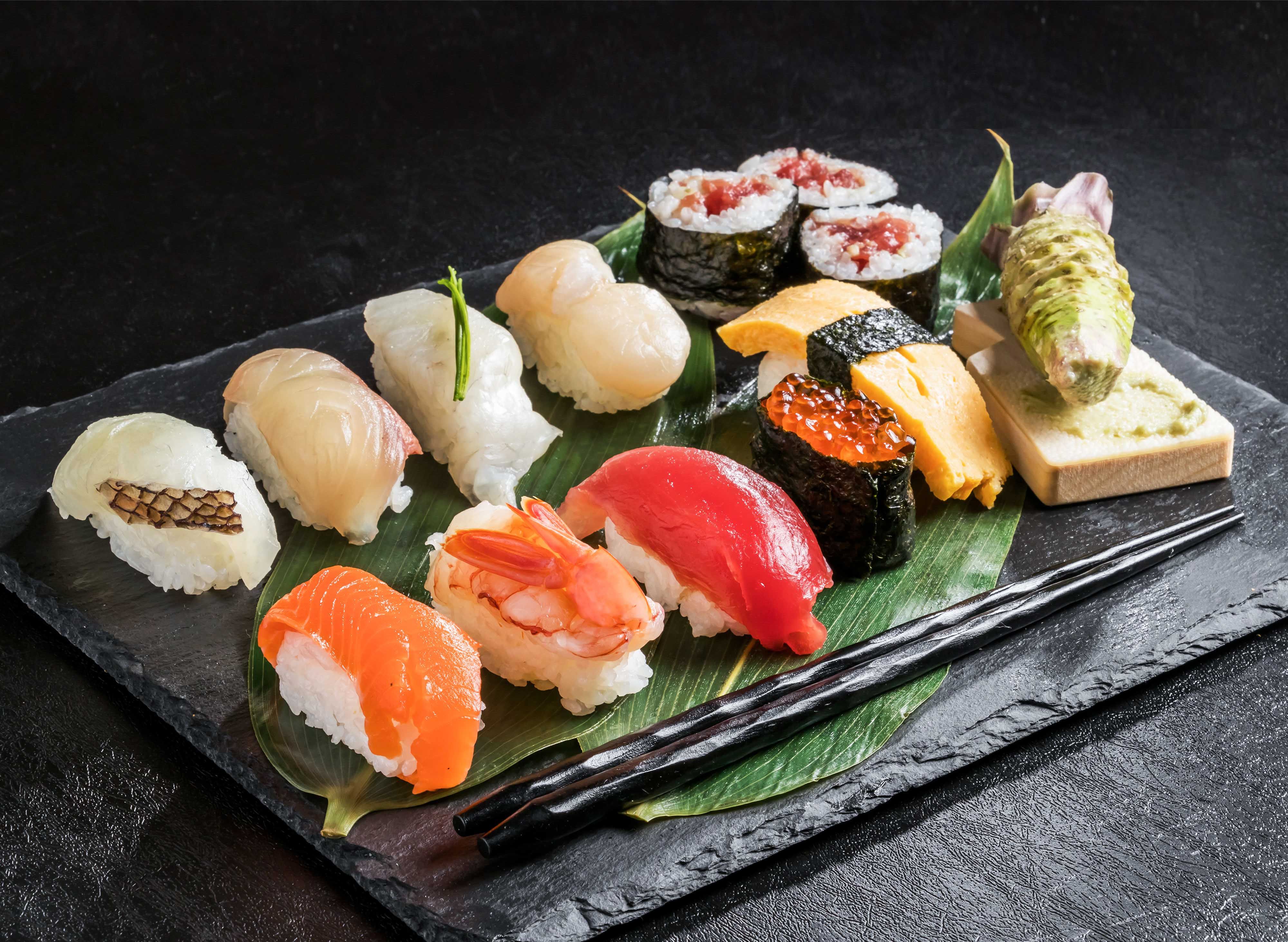 Check Manpei's menu and order it online!
Need more inspiration? Check for more sushi restaurants in Singapore to order!